Latest News by Jim Vincent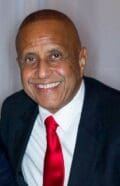 Jim Vincent
Contributing Writer - NAACP
Jim Vincent is in his 5th term as the president of the NAACP Providence Branch.
He is also the producer and host of the Jim Vincent Television Show.
Jim writes and speaks with passion on the issue of diversity.
He has spent his entire career working in housing and community development. Since 1998, he has served as Manager of Constituent Advocacy at Rhode Island Housing, where he provides outreach and technical assistance to undeserved communities.
A tireless advocate in affordable housing and minority issues, Jim has provided leadership on numerous boards and organizations - the RI Affirmative Action Professionals, East Bay Community Action, the Providence Public Library, the Urban League of RI, and the Providence Branch NAACP.
Additionally, Jim has co-chaired RI Minority Enterprise Development Week, and served as media chair for both the RI Black Heritage Society Ball and the 2005 RI Cape Verdean Common Threads conference. He is vice president of the Hispanic Chamber of Commerce, spokesperson of the African Alliance of RI and serves on a multitude of other boards, such as United Way of RI, RI Civil Rights Roundtable, RI for Community and Justice Advisory Board, among others.
Jim holds a bachelor's degree in Government from Dartmouth College and a master's degree in City Planning from the University of Pennsylvania. He is originally from Boston's South End, where he spent the first years of his career working in local and state government and non-profits. He later served as Housing Coordinator for the City of East Providence.
TOTAL UPLOADS : 5